Does Covid-19 have your store searching for ways to connect with customers? This is the perfect time to work on social media marketing. Thousands of customers are couch surfing this week. Now is the time to put your store, and your inventory in front of them.
Shoppers are online, and you finally have time to plan and schedule some social media posts.
You do not have to have a fully functioning e-commerce website to market to your customers during the coronavirus outbreak. You don't need to spend any money marketing this way. Let us show you how to create engaging posts that will bring customers into your store when you reopen, and to generate interest in inventory you already have today.
Customers can't fall in love with their new favorite product, if they are not seeing it!

1. Pick your social media platforms. Facebook is the most widely used social media platform in the world. It's easy, and customers are already connecting with family and friends. Instagram is also popular for the home decor industry. We recommend that retailers and designers plan to utilize both of these platforms for marketing. While you're there, be sure you are following Melrose!
2. Use FREE social media post design programs. Instead of investing in high dollar design programs, use freebies like Canva. You do not need a lot of experience to create eye catching posts with this program. It is easy enough as a newbie you can create your first design in less than 20 minutes.
You can also put a series of photos together in a slideshow video with Adobe Spark.
3. Pick out some FREE photos from Melrose Pics. Yes, we offer YOUR inventory in high quality resolution. Select photos of inventory you have in your store right now, or inventory you plan to purchase soon. Current inventory can be held for special customers. Simply show photos and list your email or social media page where they can contact you to arrange pick up or delivery, or put a hold on items they want to have in a few weeks.
4. Pick out a pre existing template and get started. You will want to pick a template with a place for a Melrose pic. When picking a template you need to know before you start what you will want in your post. Do you need to add your store logo? What about current contact information? Should customers call? Or is it better to message you at this time? Give them some direction on what to do while your hours are shortened, or while you are closed. Are the colors correct? If not, you can change those to match your store.
To get the desired engagement you want, you will need to know how you want your customers to respond.
5. Upload one of those good looking Melrose Pics! To do this, look on the left side. Once you select Upload, you can pull any photos from a file on your computer. You can even skip the templates, and just go with an outstanding Melrose Pic and a blank social media sized board.
6. Let's SAY something! Add a text box from the options. In this Example, we picked the pre-formmated Spring Sale. Here's where you can pick a font package you like. Available Now, Delivery Options, Hold for Pick Up, are good headlines during this shelter in place time period.
7. Don't forget your store name or logo. Afterall, we're marketing everytime we show something from the store. We want customers to come and shop with us when they are once again moving about. This is KEY BRAND marketing. You are aligning your name, with quality merchandise and building an image in the mind of the customer. Don't forget to always put your store name or logo in every post. This image may be shared over and over to friends!
8. Post. You can post direct from Canva. To do this, simple select post now. That's it! You made a social media post for your business. The first one is the toughest.
9.
Make a Schedule of Posts.
Let's make some more and schedule posts every day during this shut down! Yes, we already did the hard work. We just want to duplicate the template we created, change out the photo, and then download our layout to schedule on Facebook or Instagram at a later time.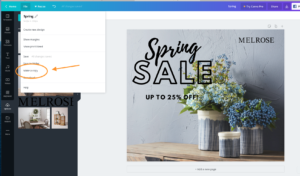 This is where marketing speeds up. You can go to File > Make a Copy. Magic! You have a copy of your next social media post. Just change the photo and then Save.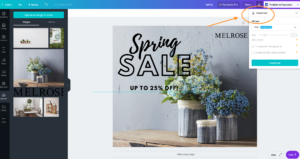 We're all in this together! It may be difficult to see when we'll have our restrictions lifted, but it will be soon. Let's be ready to welcome our customers back into our stores, and have some ideas on what they want to shop for and purchase.
Social media posts can pre-sell for you.